Our Mission
The fitout process can be daunting, so whether you're looking for a commercial fitout across an office, display suite, healthcare, retail, hospitality or fitness industry, we're here to help.
When it comes to fitouts and the construction process our goal is this: to simplify the design, approval and construction process while developing strong, professional relationships with quality, open and honest communication between our local teams and our clients.
We combine the highest levels of quality and service with innovative, cost-effective building methods and a unique customer centric approach driven by our trusted local shopfitting teams.
We offer a concept to completion fitout service to clients of all sizes, from SME's to multinational corporate clients.  This includes all planning, permissions, negotiations, approvals, design and build, all delivered through local teams, backed by an international brand.
Why International?
Consistency through our operational processes, procedures and systems.
Cost-effectiveness through our buying power and innovative building methods.
Flexibility with our multi-team approach and speed to market with our international network of suppliers and subcontractors.
Solutions through our network of trusted local experts that are trained to best–in-class standards in design, delivery and service.
Why Local?
By working with a local team you'll benefit from local knowledge and expertise, drawing on existing relationships with local suppliers to deliver efficient, time and cost-effective service.
Our Teams
We have a network of local trusted experts ready to help you.  Our teams are trained to best in class standards in design, delivery and service and deliver projects of any size and in any location across Australia and New Zealand.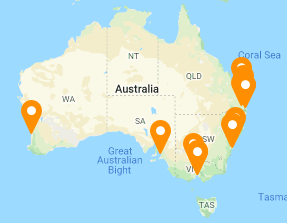 Request A Quote
We deliver projects on time and to budget. Complete the form below for a free, no obligation quote today.